I'm going to try to be as descriptive as possible in this post so it may be long, but I want to make sure all the info is there.
OS: Vista Home Premium
Computer: ASUS M50Sv-A1 Notebook
Browser: Internet Explorer 7
Ever since I downloaded & installed a recent (within the last 2 months) set of Vista updates, my Internet Explorer seems to crash every now & then. It crashes most often when I go to double-click my Gmail notifier in the Sys tray which is set to open my Gmail inbox in an IE 7 browser.
The problem is this: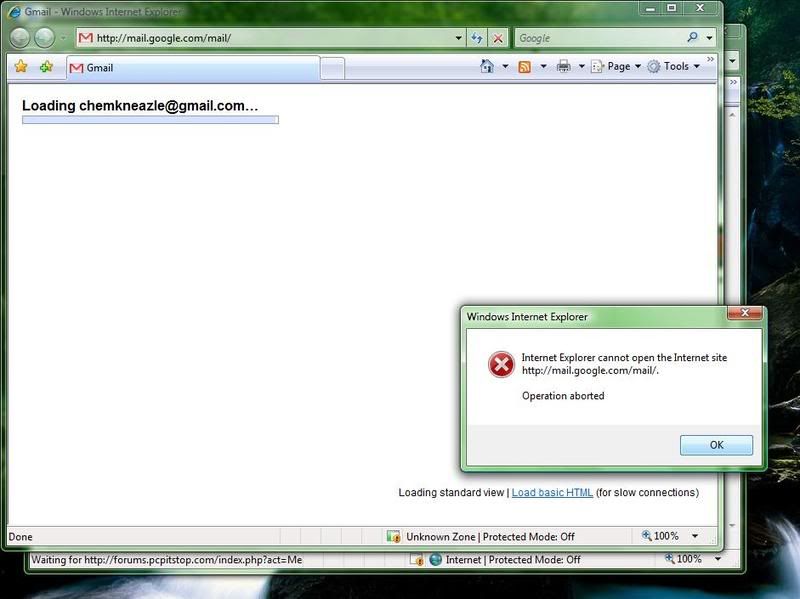 Sometimes, but not all the time, (I'd say 65% of the time), this happens. The Operation Aborted window pops up and when I click OK I get a "Page Cannot Be Displayed" window as if my Internet connection is off.
When I open my Gmail in a Firefox browser, everything works fine. So it's got to be an exclusively-IE problem.
It had been occurring more and more frequently so I decided to go back to a previous image of my harddrive (I use Acronis TrueImage). I was convinced it was a Vista update that I installed that caused my computer to start doing this because it seemed to start happening right after I downloaded the updates in the beginning of June. I decided to install the same Vista updates immediately after I re-imaged to see if it was, in fact, those updates that were causing IE to crash and not something else I had installed.
Sure enough, I installed the updates right after I restored the previous image and after a few attempts at opening my Gmail via the SysTray icon, I started getting the same message as in the image above. (Let me note here that it doesn't matter whether I try to open Gmail via the SysTray icon or by opening a new browser window and manually typing in gmail.com - it messes up both ways.)
So I figured it had to be an issue with the Vista updates I had recently installed. I decided to re-image my HDD yet again and this time, I wasn't going to install all the updates right away. This time, I installed all the updates EXCEPT the IE7 update, figuring it was most likely that one that would be the culprit.
It wasn't.
I downloaded all the updates except that one and still I am getting the "Operation Aborted" popup about 65% of the time that I try to open Gmail in my browser.
Let me also point out that it's not just Gmail that I'm having trouble with. A few websites I try to go to, which I had no problem visiting before, give me the same popup, it's just that I check my email so frequently that that's when I see it most often. And like with Gmail, the error doesn't occur every single time I try to go to a different website - only sometimes.
So does anybody have any clue of what this problem could possibly be? I'm completely frustrated. I have no idea of how to figure out which update it is that's messing things up without re-imaging 20 times, each time not installing one of those updates. I don't think I could do that. Here is a shot of the most recent Vista updates I've installed (I still haven't installed the IE 7 security update just yet):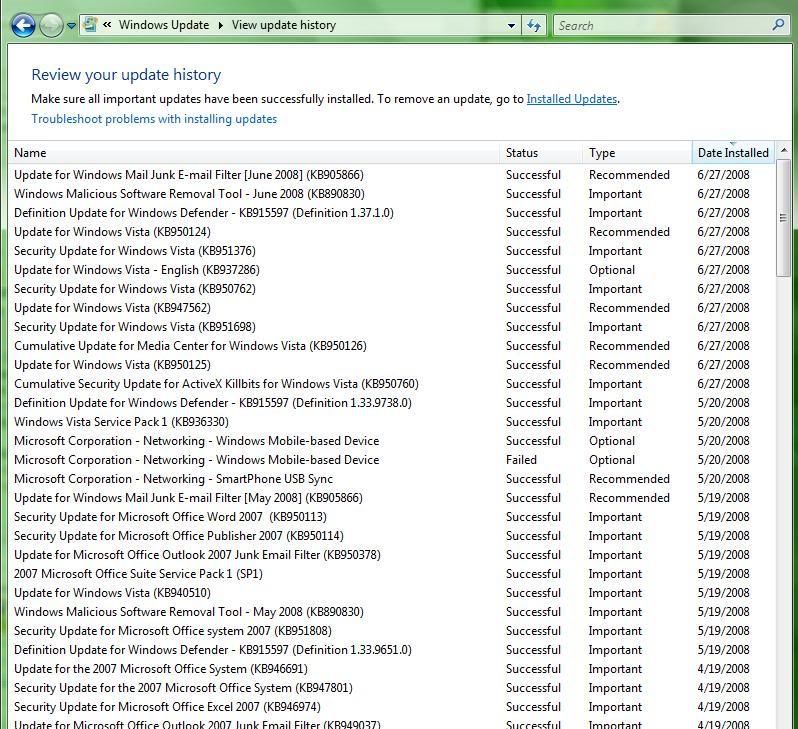 Recap:
Everything works fine in Firefox, but not IE 7
Only since downloading recent Vista updates has the problem been going on.
The "Operation Aborted" popup window only happens about 65% of the time.
It's not the IE 7 security update that caused the problem
When I re-image my HDD from a month ago, the problem isn't there. At least not frequently enough for me to have noticed before I go to reinstall the updates.