Hi there I really need helping trying to fix my graphics card. I have an 8200 GeForce. So basically I was on my computer and I decided that I would do some updations to maintain my PC performing properly. I decided to update the driver's for my hardware in the 'Device Manager'. Once I completed that, like normally I decided to restart my PC so then the updations could work properly. My PC would load to the login section, then I noticed that my screen resolution had increased. But I didn't change anything to do with at all whilst I was updating. I logged on and I just doubled checked the 'Device Manager' and the following appeared:-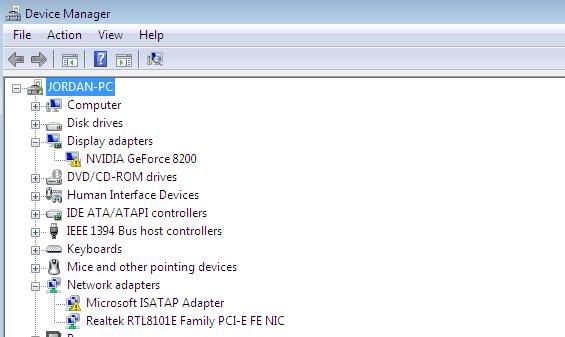 I right clicked on GeForce 8200 and clicked 'Properties' then I noticed this:-
So it says that there is Code 43 Error, I have no idea what that is, or what I need to do to fix. I have tried to update the driver software, but apprently I have the latest version of the software. I tried to the view my graphics options, by going to the program called NVIDIA PhysX Properties. But I noticed that had a problem as well, because previously I knew I was able to change the display options, but this time it looks like this:-
If anybody has any advice or could help me in anyway I would be so happy.
------
Computer Specification:-
3GB Memory (RAM)
AMD Phenom Quad-Core Processor 2.20GHz
320GB Hard Drive Space
Windows Vista Home Premium with Service Pack 1 (32 bit) Motherboard information not sure, but I can find out.
------
Thanks.